EKCS is Great Place To Work Certified in India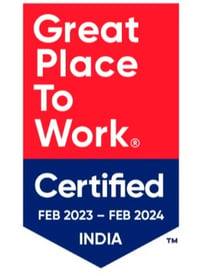 Last month EKCS became Great Place To Work® Certified in India by the global authority on workplace culture. The award is based on the experience and opinions of colleagues working at EKCS.
Great Place to Work® is the global authority on building great workplaces. They have surveyed more than 100 million global employees. Its Trust Index Survey™ and Great Place to Work Trust Model™ produce insights to define what makes a great workplace. The survey uses a rigorous data-based model that places employees at the heart of the model to quantify their experiences at companies across the globe.
The recognition as a Great Place to Work® is a testament to EKCS's ongoing investment in company culture, with surveyed colleagues sharing that their work has meaning and isn't just a job. EKCS fared well on all five critical dimensions of the Trust Index™
1) Credibility
2) Respect
3) Fairness
4) Pride
5) Camaraderie
"At EKCS, we are committed to prioritizing health, safety, and wellbeing for all our staff. The recognition reflects our hard work in building a high-trust and high-performance culture. And, more importantly, one where employees value coming to work each and every day."
—
Suditi Bhadauria
VP - Human Resources and Organizational Development, EKCS
Why is EKCS a great place to work?
Great workplaces are built through the day-to-day relationships that employees experience, not a checklist of programs and benefits. Employees believe they work for great organizations when they consistently:
Trust the people they work for
Have pride in what they do and
Enjoy the people they work with
EKCS employees voted collaboration and support as strong areas. As one employee told Great Place to Work® "My organization has played a vital role in my personal and professional growth over a year. One of the unique ways in which it has helped me grow is through its emphasis on continuous learning and development. My organization has a strong commitment to making a positive impact in the community."
Here are some of the other things EKCS employees said:
"The organization thinks about the employees and their needs. They've supported all of us and it is really a great place to work."

EKCS employee.

"A great workplace is defined by its willingness to invest in the training and development of its employees. They encourage employees to participate in various career development and skill development programs."

EKCS employee.

"As I have joined this organization, I was greeted beautifully by my teammates and the management. Each team member, perfect in their own field, helped me throughout the training period and also whenever I needed."

EKCS employee.

"My organization is fantastic to work with. I have learned and upgraded my skills here. I would love to recommend my friends to join this company. The management is very helpful and has given good support. I am very comfortable working with this company. Great place to work in."

EKCS employee.

"In this company, managers and their employees trust and respect each other and have a shared commitment to both individual and company success. EKCS try to meet its employees' financial, mental, physical, and emotional needs. As a result, employees are often more productive, satisfied, and willing to stay at the company long-term."

EKCS employee.
Want to work with us?
EKCS is always looking for skilled and talented individuals to join our growing team. To find out more, email your resume and a paragraph about yourself to career@ekcs.co.